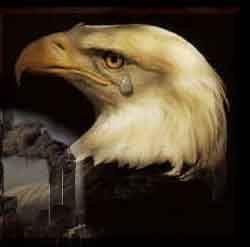 Another anniversary - I weep tonight as I do each year.
My husband worked in the second tower, 95th floor. I worked for Reuters International a few blocks away. My brother in law - a few blocks away for an international bank and my husband's nephew and new bride had an apartment a few blocks away from there. We all shared the horror of 9-11.
In the Tri-States area, we have bazillion military facilities. Each day, each year, we have amazing activity around 9/11.
What I remember most is the falling of the towers and the absolute silence for the next few days. No aircraft, no singing birds…dead silence. Smoke…so much smoke from the smoldering remains of the towers.
Seeing video so untenable that it was etched in the psyche.
My friends were there…they saw the bodies jumping from the towers and a few are so damaged from what they witnessed, they have no hope of recovery.
It happens every anniversary- weeks of military air and sea craft build up. Weeks of knowing, thankfully, we keep watch.
Please, never forget what happened and please honor those brave folks and families that suffered so much for freedom and democracy!
YouTube 1
You Tube 2